6 Ways Rideshare and Delivery Drivers Can Boost Their Income
One of the perks of working in the gig economy is having more control over your income. You aren't tied to a fixed salary.
Even within gig work, rideshare and delivery driving are quite flexible jobs, offering many ways to maximize your driving income. Try some of these tips to earn more while you're out on the road.
1. Double Up With a Delivery Service and a Rideshare Service
One of the easiest ways to boost your income is to double up your services — rideshare drivers can become delivery drivers and vice-versa.
Then, you can do either one at any time, depending on the demand. You'll have minimal downtime when you're out driving.
For example, if you drive for Uber, you could sign up for UberEats and take on both types of services. When Uber passenger requests begin to slow down, you could grab a few UberEats orders.
2. Improve your Passenger or Customer Experience
Customer service is a cornerstone of succeeding as a rideshare or delivery driver. The friendlier and more accommodating you are to the customer, the more likely you'll get tips and good ratings.
Rideshare drivers can gain favor with their customers a few ways:
Maintain a friendly, positive demeanor.
Mirror how your passenger communicates — if they're sociable, talk with them. If you suspect that they want to sit back in silence, don't force any conversation.
Keep your car clean and smelling fresh.
Accommodate reasonable requests, such as alternate routes.
Have snacks, water, mints, etc. on hand.
Delivery drivers improve their customer experience and earn more tips in a few ways as well:
Bring the customers little extras in anticipation of what they might want — if they ordered sushi, for example, bring them chopsticks and/or salt & pepper packets from the restaurant. Point out these extras in a casual way so they notice.
Triple-check that everything is in the takeout bag and packaged properly.
Communicate with your customer — customers appreciate this, as they can be ready for your order when you arrive. Plus, it helps you complete deliveries faster, which means more time to earn money.
3. Drive or Deliver In the Right Places at the Right Times
When it comes to maximizing your rideshare driving or delivery income, being in the right places at the right times matters.
Rideshare drivers can make a lot of money Friday and Saturday night in cities, thanks to weekend night entertainment like bars. There will be plenty of demand for rides, especially as bars begin to close and patrons need rides home.
Additionally, your tipsy passengers may be more likely to throw some extra tip money your way.
Weekdays have their busy times as well. 6 am – 10 am is when most people are starting their day, and they may commute using rideshare services. Things should get busy again anywhere between 2 pm – 8 pm as people begin to commute home.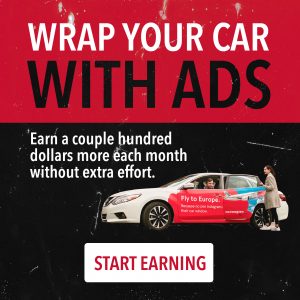 Delivery drivers may be able to make good money driving during lunchtime and dinner time during the weekdays.
Perhaps businesses in the area are ordering lunch for delivery to their offices. That's a perfect time to grab some delivery orders. And when dinner rolls around, people may prefer the convenience of delivery over cooking for themselves.
Large sporting events, such as the Super Bowl, are also lucrative times for delivery drivers — especially when the weather isn't great. Customers will appreciate you bringing them food so they can stay comfortable in front of the TV, and they may tip accordingly.
4. Recruit More Drivers
Enjoy your work as a rideshare or delivery driver? You may be able to invite your friends to become drivers and earn referral bonuses. Referral bonuses vary by city, but referrals can provide you an excellent supplement to your regular earnings.
Most rideshare and delivery companies require your referrals to complete a certain number of rides or deliveries before you earn the bonus. Make sure that your referrals are serious about earning through driving!
5. Use the Passenger or Customer App
Many ridesharing and delivery driving passenger apps show where other drivers are near the passenger's location. You can use this to your advantage.
Say you're driving during a large bar crawl downtown, for example. Despite crowds of people, you aren't getting ride requests.
You flip open the passenger app and see dozens of drivers near you.
With that in mind, you find a different spot downtown with fewer drivers. You might get more ride requests.
6. Wrap Your Car With Ads
Want to supplement your rideshare or delivery earnings with passive income? Wrap your car with ads through a company like Carvertise. By wrapping your vehicle, you could earn a couple hundred dollars more each month without extra effort.
If you're in an especially busy area — such as a big city — you can earn more money, as more people will see the ads.
As always, however, make sure you follow all local laws and regulations regarding advertising on your car before signing up.